This is something we all know is true: Wedding films are growing in popularity. We've seen it. You've seen it. Rachel Silver, founder of Love Stories TV, has definitely seen it. Through her platform, she's seen demand increase along with the quality of content and her team has helped bring wedding films to the forefront of the wedding scene.
"Right now, around 30 to 40 percent of people hire a videographer and we see that growing every day," Rachel told us. "We know more and more people are getting into it. I think what's been really interesting is that videographers have been left out of the publishing ecosystem and they have a lot of questions that photographers don't have."
Wedding photographers have been in the game for, well, since the camera was invented. They know — many of them very well — how to market their work and bring in new customers. Filmmakers, however, need to catch up with the exploding market and position themselves as the in-demand creatives that they really are. This is exactly what Rachel and her team are championing.
Through their platform, they're giving filmmakers a place to upload their work and, most importantly, giving brides a place to find it. They've helped thousands of filmmakers bring in new work and have learned a few things about what good marketing looks like.
So, we decided to use this opportunity to pick Rachel's brain and hopefully help wedding filmmakers close the gap between quality content and self-promotion, which will ultimately lead to more clients, more films, and more opportunities. Here are her 5 tips for marketing your wedding films.
---
Market where your customers are.
Rachel started off our conversation with a great point: As wedding filmmakers, you're in the customer service business first and foremost. Your product is not for other filmmakers, so why would you promote it like it is?
"Photographers understand the inherent value of having their work featured a lot of places," Rachel says. "But I still get filmmakers who say, 'I want to link the film back to my Vimeo.' That's a really shortsighted way to think about it. Your consumers do not use Vimeo. 28-year-old women are not hanging out on Vimeo."
So, beyond Vimeo and YouTube, where is your work living? In order to market your work, you need to bring it to where your customers will see it. But, beyond just uploading, you need to think about what your customer wants to know — things like how to book a meeting, your costs, and even your specialties as a filmmaker. Make it easy for them to see that you're living in the wedding space and they'll know you're a filmmaker they'll want to work with.
"You might go to Pinterest or Instagram and see something really that you love but there's no data," Rachel says. "How do I book this person? Where is this video from? What's the dress in this video? What's the venue? Who's the videographer even?"
Have a social media mindset.
As a filmmaker, you can not ignore social media — especially Instagram. First and foremost, simply having a presence on Instagram is the place to start. Upload your work and be sure to use relevant hashtags to get it in front of couples who are interested in booking a filmmaker for their wedding.
"For any bride looking for a videographer, the first thing they'll do is look at your Instagram," Rachel says. "It's just how people think today. You need to follow best practices, right? Your website, Facebook page, and Instagram account should all look professional. People aren't expecting it to look like you've hired a branding agency — your videos will speak for themselves — but you need to make it easy for brides to understand who you are and how to book you."
And keep social media in mind when you're editing too. According to Rachel, it's more important than you may realize.
"The first thing I always tell filmmakers is to shoot vertical Instagram videos," Rachel says. "It performs better on Love Stories' Instagram and the filmmaker's Instagram. There's a lot of research that shows vertical videos perform better on social media platforms. When people send us videos but it has the two black bars, we don't generally want to feature it."
We know, letterboxing has its own cinematic look. But, when you're shooting and cutting footage, keep social media in mind and capture images that will look good in a vertical crop. It'll be worth your time.
"If a bride is on Instagram or Facebook and it takes them 30 seconds to get to the most interesting part, you're going to lose them."
Always cut a cold open.
This is another great note from Rachel about editing. You've seen movie trailers on YouTube, right? They start with a trailer within a trailer, which they call a cold open. It's meant to give an overall intro to what the viewer is going to see and tease them into watching the entire thing. Wedding films are no different.
According to Rachel and her team, videos perform better when they're cut with a cold open. And no, that doesn't mean pretty cinematic shots.
"If you open a video and the first 30 seconds are a sweeping view of the jungle where the wedding took place, you're going to lose people's attention," Rachel says. "If a bride is on Instagram or Facebook and it takes them 30 seconds to get to the most interesting part, you're going to lose them."
The most interesting part is relative, sure, but not so much for couples looking to book a wedding filmmaker. To them, the "most interesting" parts are the moments they'll be involved in. So, cut a cold open packed with the highlights of the wedding — vows, first look, beautiful shots of a bride in her gown. By including a quick cut of this first, you'll grab their attention and let them know they're in the right place. Then you can restart and set the scene with those killer drone shots.
Think bigger than the film.
According to Rachel, this is one of the largest areas of potential for wedding filmmakers in general. When a wedding comes together, it's a symphony of collaboration. There are so many professionals and talented individuals working together to pull this off — and a lot of brands, too.
"You should tag every vendor when you upload to Facebook and Instagram because more people will watch your video, like the video, and share," Rachel says. "You'll also get better SEO traffic to your website by listing all of your vendors — not to mention you'll have more success on the wedding day when you know who all of the other pros are."
This is business 101, but probably not so obvious to filmmakers. Tag the florist. Call out the DJ. Name drop the dress designer.
There's so much value in connecting your name with other vendors, showing them some love on social media, and knowing which players are in the game. It creates this symbiotic atmosphere that will give your work marketing legs and get more couples watching your films.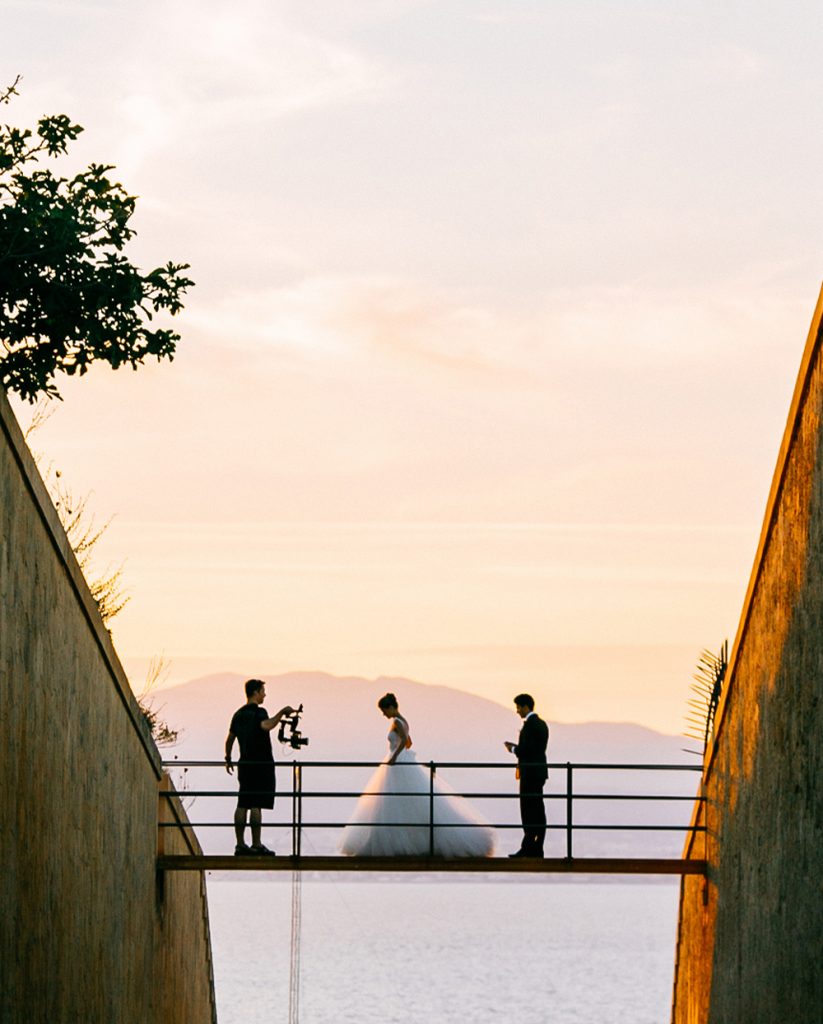 Get in the mind of the bride.
We've been hinting at this throughout the article, but if you're going to take away one thing from this article make it this: When it comes to wedding films, your couple is in charge. That goes from the day of the wedding, through editing, and all the way into marketing your entire business.
So, when you're cutting a wedding film to upload online, always be thinking in the mind of your couple — more specifically the bride, who represents 90% of their site traffic on Love Stories TV.
"Brides get most excited about shots of the groom gazing at the bride, looking really in love. They love sweeping shots of the dress," Rachel says. "That's what we tell videographers all the time. You want to document the whole day, but we find our top-performing videos have lots of shots of the dress, of the groom crying when he sees the bride, and the vows. You're creating this video to serve the person that hired you. That is your first and foremost goal."
Also, Rachel pointed out that brides are coming to Love Stories TV for more than wedding films — they're researching venues, dresses, and even getting ideas for vows. So, by including those key aspects of a wedding in your cuts on Love Stories TV, you're giving them even more reasons to check out your films — and fall in love with them while they're at it.
---
Sure, a lot of wedding filmmakers need to improve when marketing their work, but this is all for an exciting reason: Wedding films are exploding as a medium and show no signs of slowing down.
There are massive opportunities for filmmakers to market their work and bring in new clients. With the high demand, even making a few small tweaks to your strategy can have huge impacts on your bottom line.
With a platform like Love Stories TV, it's easier than ever to market your work effectively. Haven't published your work yet on Love Stories TV? It's totally free for filmmakers and a powerful way to connect with new clients. Get started today at lovestoriestv.com.
Also, we're excited to say that a subscription to Musicbed or a single-song purchase fully covers your work on Love Stories TV as well — not to mention every other social media and streaming service — so you can upload work featuring music from hundreds of incredible artists and composers worry-free.