Filmmaking is an act of courage, a leap of faith, no matter what role you play in its production. It takes vulnerability and strength to believe all of these pieces will come together and make something that's good, not to mention something that actually connects with people.
For co-directors David Boon and Simeon Pratt, courage took on many forms during the production of their latest shortfilm.
While shooting The Darkroom, which you can watch below, they battled snowstorms, wet conditions, and tight sleeping quarters (seriously, it was a Toyota Highlander) to bring this stunning film to life. Even more than physical conditions, though, David was able to share the story of his brother's death in front of the camera and take the audience on a journey through grief and healing.
We talked with David and Simeon about how they pulled off this heady task — a marriage of beautiful, sometimes terrifying landscapes with beautiful, sometimes terrifying emotion. It involved trust, collaboration, a solid funding pitch to Olympus, and more than a few trash bags.
Here are Simeon and David.
---
Musicbed: David, how much does photography influence your film style?
David Boon: Very heavily. I'm definitely a visual person, but something I learned is that story structure is just as important. There are so many more moving parts than just pretty images. Those pretty images are probably higher up on my list than other directors, which is why I was very fortunate to collab with Simeon on this because he did an absolutely beautiful job. As you've seen in The Darkroom, his DP work is just phenomenal.
It is a beautiful film, Simeon.
Simeon Pratt: Thank you. Iceland helped a lot. [laughs]
How did you two decide to co-direct on this project?
Simeon: Early on we were overseas shooting for fun on a trip to Europe and Spain and just discussing some sort of passion project we could put together. David had the opportunity to be in Iceland for an unrelated project, so that's where we originally started talking about what project we should shoot.
We were trying to figure out how to make it more than an Iceland montage. I'd been to Iceland before, and it's a beautiful, beautiful place, but we wanted something that had a little bit more story to it — more than a pretty piece without any meat to it.
David: Simeon brought up this idea after many long chats about potentially creating a story about my narrative. It just became logistically easier as well, especially because Iceland is not a cheap place to be. It just snowballed from there over conversations between the two of us. From there, we knew we needed some help. We approached a bunch of companies that we thought could be relevant to give us a bit of a hand. Olympus eventually came on board to help us out.
How did you pitch Olympus on your vision?
David: Everyone is out there to get something for themselves. That's just a truth you have to accept, I think, especially with brands because they need to run a business. For us, it was just a matter of putting together a simple business plan for the film, points where they can make ROI — which doesn't need to be financial but can be deliverables as well. We included a short synopsis on why the film is important, then a list of benefits for the investor.
One of the things that was very much appreciated is approaching the transaction like it's helpful for both parties rather than being something that's one-sided because they see so many filmmakers that come to them wanting to make something.
It probably helps to be strategic about the brands you're pitching as well.
Simeon: Yeah. It helps that the product we were using was a waterproof, small, mirrorless camera system. The fact that we were taking it under waterfalls and into the highlands of Iceland, getting it wet and dirty, speaks to the quality of the product and how we could test it. I think I have a pair of shoes that didn't last the trip and those Olympus cameras are still working.
That's a great segue into the shoot itself. What sort of conditions did you run into?
Simeon: One of the biggest challenges for me creatively and technically was just knowing when to shoot what. We had Olympus cameras that we were trying to deliver stills on and we were trying to deliver behind-the-scenes photos of ourselves as well. We were trying to commit to our primary cinema camera. We were shooting aerials. We were shooting aerial stills.
A lot of stuff in Iceland is so weather-based, so we found that weather windows really prioritized our shoot for us. You want to be able to capture everything at once, but you have to hone in on the story and what it needs. Even though a scene is beautiful it may not lend itself to the story at all. And that was very difficult for me.
Beyond that, everything was just soaked for the entirety of the shoot in Iceland. We were working out of a Toyota Highlander with all of our gear, just two people trying to live out of it for two weeks, so everything was very disorganized. A lot of wrapping gear in plastic bags.
How did you organize the whole schedule?
Simeon: It was very improvisational, just because it was all dependant on the weather. But, instead of just shooting a bunch of random stuff — which is hard to do because you're in Iceland and everything's beautiful — we always had a few scenes in mind and then we'd improvisationally find a landscape or setting that would fit the scene.
It really helped that we had a lot of time, like two and a half weeks. We ended up chasing the northern lights all over the place. I think we drove three whole times around the entire country, maybe more [laughs]. There were a lot of times when we'd try and find a location in the highlands and would completely fail because it's almost impossible to find. But, some of our favorite scenes came out of our failures. We'd just stumble into something crazy by being in the wrong place.
David: We were on this 14-kilometer hike up into the mountains and the landscape was just changing every few minutes. One moment you're in some lava fields and the next moment you're in some painted hills with smoke coming out. We came to the top of this mountain and we're standing next to a memorial for two people who'd gotten lost in a snowstorm and passed away.
Just as we reached the area, the temperature dropped about 10 degrees and we got hit by this massive snowstorm ourselves. It became one of the most powerful moments in the film, I think, where the dialog is talking about being unsure and the subject is lost in the middle of these wide open shots. It was a complete mistake. Obviously, we weren't planning on getting caught in a snowstorm, but those impromptu moments ended up being some of the greatest scenes.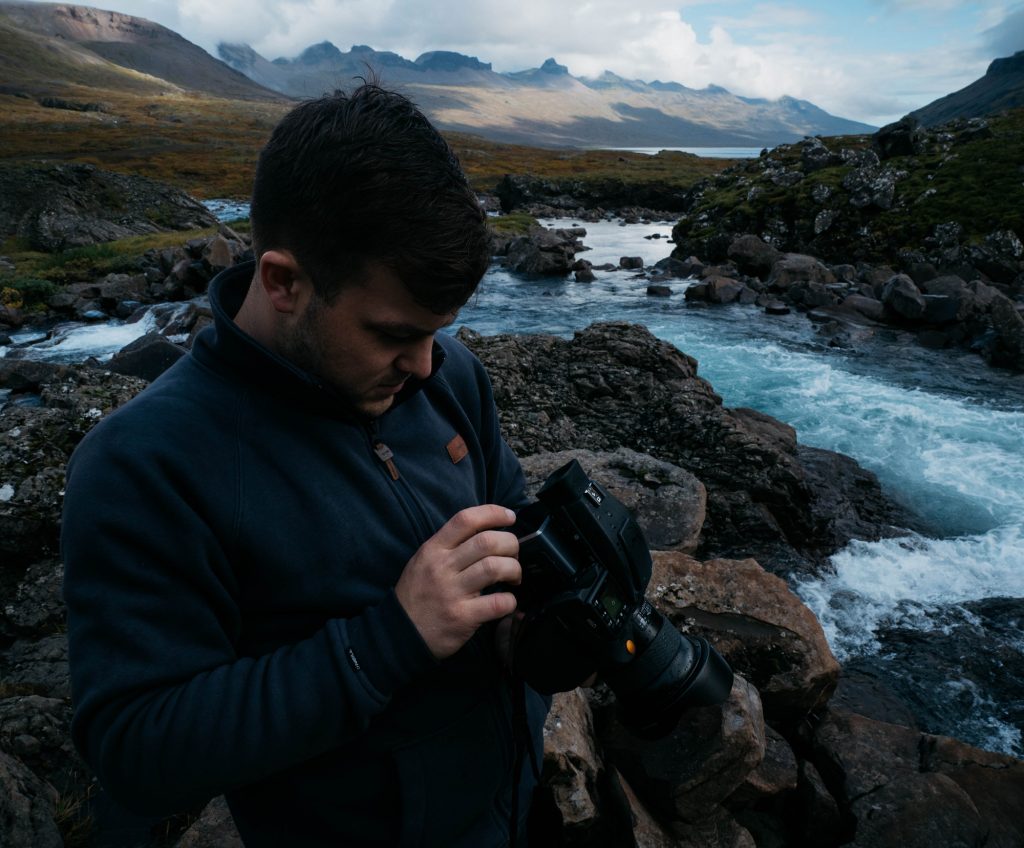 How did co-directing influence your process?
Simeon: I don't think just anybody can co-direct with another person. You really have to be in-sync as far as the creative vision goes. We talked about this project for a while and the vision was really conceptualized together.
We really had to learn to trust each other, especially on David's side because he was the subject we were shooting. Because of weather constraints and time constraints, we had no time or battery power to review footage. The biggest thing that lends a project to success is trusting that the other person is also trying to make the best product. Finding a co-director that's most interested in the final product and not an ulterior motive is important.
David: I couldn't have said it better myself. Not to say we didn't have moments where we clashed because we spent two and a half weeks in a car together with limited sleep. There was definitely some back and forth — some that was constructive and some that was not constructive — but it was very much a journey together.
Simeon: It helps that it's a passion project created by just the two of us, so if we came to a disagreement, you can't continue to disagree and walk away because the project will never get finished. You have to figure out how to finish it. I think that's how a lot of creative projects get bogged down — everyone gets frustrated and walks away, But, when there's just two of you, it doesn't work like that.
Plus, you're stuck in a car together, so there's that.
Simeon: [Laughs] If you walk away, then you're definitely going to freeze at night.
David: I think it was an amazing experience having that extra opinion from the get-go. If you're writing or directing by yourself, sometimes you can get lost inside of what you want and lose the overall vision. Having that other side and opinion was invaluable on this project.
Did either of you have a personal goal this film?
David: I wanted to break into the directing world in a personal, emotive way. I want to tell stories that are personal stories. It's something I've wanted ever since the first time I picked up a camera in Kenya.
On the other hand, being a personal film, I think it was…it was almost therapeutic for me in a way of going through this because I had to actually step back out, or try to step out, of the personal feelings I was having about my loss.
It's something that wasn't planned, but in the end, it became a beautiful tool and I'm so thankful Simeon was there the whole time with me to work through it. It was a very emotional journey, but coming out the other side I find it much easier to talk about the subject. It's almost like a weight off of my shoulders.
Simeon: I think a big part of a media career is self-promotion and finding out how you can use something best for yourself. It can slowly work out to be more and more selfish, talking about yourself and showing off your work, which is a necessary evil to get hired and make a living out of all of this.
The big perspective change for me was working with David, seeing the way he could work through a dark time using this creative outlet. Instead of approaching these creative outlets from 'how do we sell this and how do we market this' we can approach them to work through our own personal problems, take that energy and change it into something good.
David: Everyone goes through death in their family or the death of a loved one, a time where you struggled and you don't really want to push on. In a lot of respects, everyone can relate to The Darkroom because we have our own trials and burdens. But there is a way to use our talents, whatever thing makes us feel a little bit more comfortable or confident, in a positive way to come out of that loss.
I hope that something the audience can take away from this in their own lives is that we're all the same. We're all human. We all strive to have love and be accepted and feel confident. I hope the film can inspire people to go out there and create. To have their passion be some form of good in their lives.
---
Picture North is a US-based production company that creates commercials and branded content for clients worldwide.
The Darkroom features music from the following Musicbed Artists: