Editor's Note: This article contains content about depression and suicide. If you or someone you know is in crisis, contact the Suicide Prevention Lifeline at 1-800-273-TALK (8255).
Powerful storytelling starts with intention. And when there's a personal story backing the message, it's easier to ignore the critics and go with your gut.
Filmmaker Parker Foster knows this from experience. His suicide-awareness PSA Be Here Now provides a raw, intimate look at the alienating effects of depression—and it doesn't conclude with the fairy-tale ending we've come to expect in mental-health messaging.
"Suicide is dark, and it shouldn't be sugar-coated," he says. "Showing someone constant advertisements that always end in someone coming to save them doesn't do anything but make them feel more alone."
Most mental-health PSAs didn't resonate with Foster's experience and the experience of many others, so he decided to tell a different story—an honest look at the alienating effects of depression and how many people hide it from their closest friends and loved ones.
Content warning: Some images may be disturbing to those with a history of self-harm.
Be Here Now provides an intimate look into a young woman's life who, according to her friends, has it all together. The powerful short drama won the People's Choice Webby Award in 2022.
We talked to the filmmaker about writing and directing the piece, and how our most personal experiences can help deliver a message to those who need to hear it most.
---
Musicbed: Tell us about your motivation behind this project. Why did you want to tell this story?
My process as a filmmaker over the last few years has been to write about stories that affect me personally. I've only ever been a filmmaker. I picked up a camera at 14 years old and haven't put it down since.
For the last 13 years, I've created nonstop. In a way, creating was my therapy to release any emotions that I was battling with. When the pandemic happened, that was the first time in my creative journey I couldn't go create.
I get motivated when someone tells me I can't go do something because that pushes me even more to go do it. But in 2020, nothing was happening. I couldn't go create because there wasn't anything to make. The world was at a standstill. Being restricted from creating for the first time in my life, I didn't know what to do. My whole identity of who I was up to that moment was "Parker the Creative."
Since I couldn't create, I felt empty and without purpose. I struggled with anxiety, panic attacks, and depression for about a year. When the world slowly came back to life, I began therapy, and it honestly saved my life. My therapist gave me the idea to make a film about what I felt like and maybe in turn that will help discover some answers to my emptiness. I began researching suicide awareness PSAs online, and everything I saw was a fairytale version of what I went through. There was the cliche shot of the sun coming through the blinds and Superman flying across the sky. It was treating mental health like a fantasy.
I wanted to tell the story of what it feels like to wear a smile every day through life, but inside you felt empty and alone. That combination starts to make you feel crazy because you are lying to those around you that you are 'okay.' But you worry that if you are honest, everyone will really think you are insane. So you are stuck in a limbo of emotions.
I had an incredible support system. My friends and family were there for me, but I knew not everyone had that. The real reason I made this was for those out there who truly felt alone in this mental health battle and to let them know it's normal not to be okay.
Walk us through your conception process.
I knew I wanted this film to be an intimate portrait of someone who doesn't know if they can make it another day. That's a strange feeling because you want someone to prove you wrong and convince you to stay. Suicide is usually compared with selfishness, and I believe it is quite the opposite. The concept came from the familiar phrase you hear when someone dies by suicide: "I had no idea they felt like this."
The concept itself was structured in a simple way because to me it didn't need to be overly complicated. It's about someone who can't decide if they want to live, yet their friends have no idea because there are no signs. To them, their friend is thriving because they always see this person with a smile. That's heartbreaking because no one is at fault. We will never think someone with a smile and laugh doesn't want to be alive, it doesn't make sense but we as humans are so good at being emotional chameleons.
After I had that concept down, I went to cast it and wanted to make sure whoever I cast had been in this place before. Knowing that this film could be therapy for them, to let out any emotions they may still be harboring.
A story like Be Here Now doesn't come without a burning need to communicate something that hadn't been said about this subject already. What did you want to make sure was communicated with this film?
Authenticity. I can only speak from my experience, but mental health doesn't get 'fixed.' It's something you learn to live with and find a balance in. The sun doesn't shine through and heal you. You have to make the step forward and trust in yourself.
Secondly, I wanted to shed light on the fact that our happiest friends might be the most broken. You need to check in on everyone, not just those who might be more emotionally open.
What were you watching while you worked on this project?
I try to not watch anything when writing, so I don't just take the easy way out and take an idea, shot, etc. I did, however, watch a commercial—"Descent" by Helen Takkin. It was the first time I watched something about anxiety attacks that really portrayed it so well. That one hits me every time.
How did you approach scoring? Why did you choose this composer?
At first, it was just supposed to be the V.O. and ambient sounds as the score. I didn't want a score to drown out or distract from the film, but I kept going back to ["Cæsúraa"] by VACVVM. I had saved it for a film I wrote a few years ago and loved the sound of it. It blended really well with the ambient sounds we were after and truly amplified the film.
What was your biggest challenge with this project?
This entire project was almost like lighting in a bottle. The idea came to me very fast, the V.O. was recorded with a friend who stopped by my office and offered to just chat about mental health while I recorded it and his words fit the film perfectly.
I found the best actor, Sarah De Baets, to play this role, and so it was going so strong until all of the organizations I reached out to for funding came back and said no. Not only did they say no, they told me not to make this film.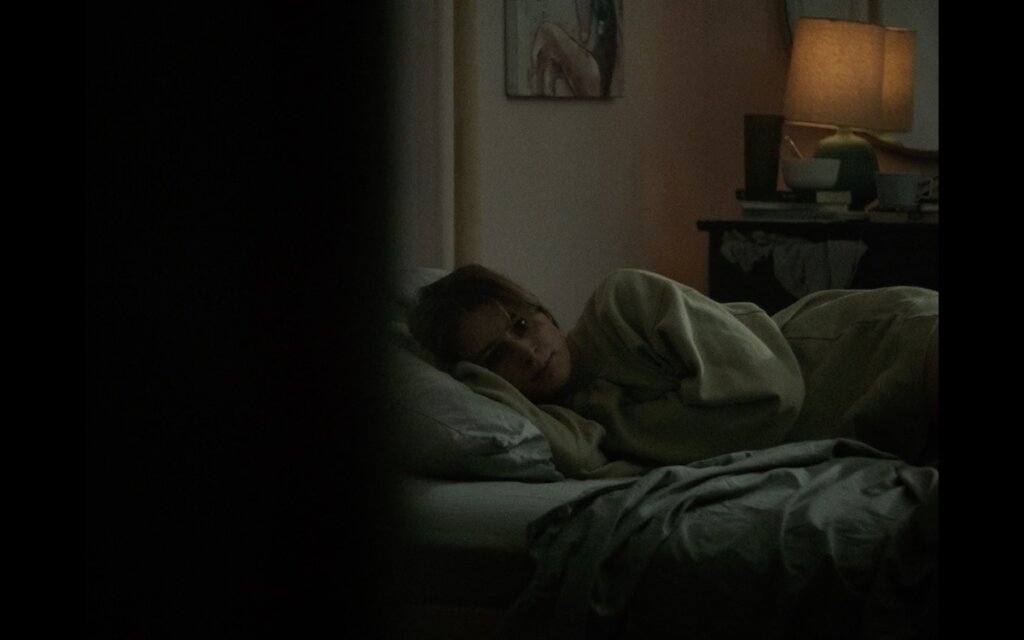 I reached out to over 40 organizations in America for funding, and the majority of them told me I would be hurting people—rather than helping them—with this film. I couldn't believe it because this was such a personal project for me. I was getting told this like I'd never faced mental health issues before and I was just guessing what it was like.
I knew deep down they were wrong and I was going to prove it to them. I reached out to Filmsupply, and they are always down to hear out my ideas. That's why I love them so much. They said yes, and a few weeks later we were shooting.
The production and post side of this went by fast. The edit was pretty simple because we only shot 14 clips and I already had a detailed treatment and idea of what this would be. My editor Brian Chambers cut it super quick, and it was done. It all went by really quickly. I remember getting back to my apartment after we wrapped and sitting with my DP Sid Singh and gaffer Elliott Travis and just smiling a sigh of relief. I knew we made something special.
What did you take away from the project? What was your biggest lesson?
You gotta trust yourself when it comes to making films that affect you personally. I'm sure if this happened five years ago I would've pivoted when I was told no by all of these organizations. I would've thought they were always right and never could be wrong about something. I was happy to take a bet on myself because this project is one of my favorites and means so much to me. I remember releasing it, and for months I'd get emails, DM's, and texts from strangers about how they felt seen and heard when they watched it. It means so much to make something and know you affected someone's life for the better.
What's next for you?
I'm in pre-production for my next suicide awareness project, directing my third short film this spring, and writing my first feature by the end of the year. My whole mindset has changed since making Be Here Now. I want to find a way to build projects from the ground up and get them made. I don't want to wait for the 'perfect' pitch to come to me from somewhere else. I believe our best work begins with what stories we wanna tell and finding a way to make them happen.