When the team at Park Stories was tapped by Quibi to produce the new series Prodigy, they had a vision in their head—an extremely polished, yet creative examination of young athletic talent at the highest level. So, when they were hunting down music for the show, they knew they needed music to match the quality of their work.
Ultimately, 53 of the 54 songs used in the show came from Musicbed's roster:
"When we find people who we deem to be best in class, that's exactly where we want to be. Our experience with Musicbed has been absolutely amazing from moment one," Park Stories Founder Rand Getlin told us. "When we got ready to do this series, we knew we had to do this with Musicbed. We have to figure out a way to make this an exclusive."
But, it turns out that was just the beginning of the process. Prodigy is an eight-episode series featuring eight very unique athletes. Editor Lucas Harger needed music that spoke to each of their stories, heightened key moments, but still flowed with the show's style.
Lucas served as the music director for the piece, as well as the editor, and was the first person to get ears on what the sound would become. We talked with him about how he selected the music for the piece, and he offered some key advice that filmmakers can apply to their own projects.
Find Your Characters' Culture
When Lucas began the process of selecting music, he knew he needed to start with who these characters were. So, he started with their "culture." But, maybe not the kind of culture that comes to mind at first:
"At the point music comes in, I've seen all the footage and have an understanding of the cultural position of each of these athletes," Lucas says. "But, in terms of their culture, they're so different from one another. So, I don't necessarily look to literal cultural cues, as much as tonality. What does this moment sound like? What does this action sound like? What does this approach feel like? And then it's about just diving into those more esoteric approaches."
In other words, Lucas isn't looking at the literal culture of his characters. He's looking at what his characters represent. Does their story represent an arc of redemption? Or does it represent tension? Find a sound that makes sense for the story, and it will inherently make sense for your character.
Work From Emotion First
Now, once you have the emotion and tonality of your character, it's important to search based on those criteria first and foremost. As Lucas pointed out, if you start with a specific genre, song, or artist, you're bringing your own taste into the mix more than the story's:
"When I search through Musicbed, I never filter by genre, because I'm already bringing a preconceived notion of who I believe this individual is," Lucas says. "It always starts with attributes and the emotion. If I need this to feel intense and dark, I let the genres come to me. I don't want to go into this with pre-existing notions of what I believe this moment should be—cinematic, ambient, hip hop, rap, or whatever. Genre is irrelevant if the song hits the emotion."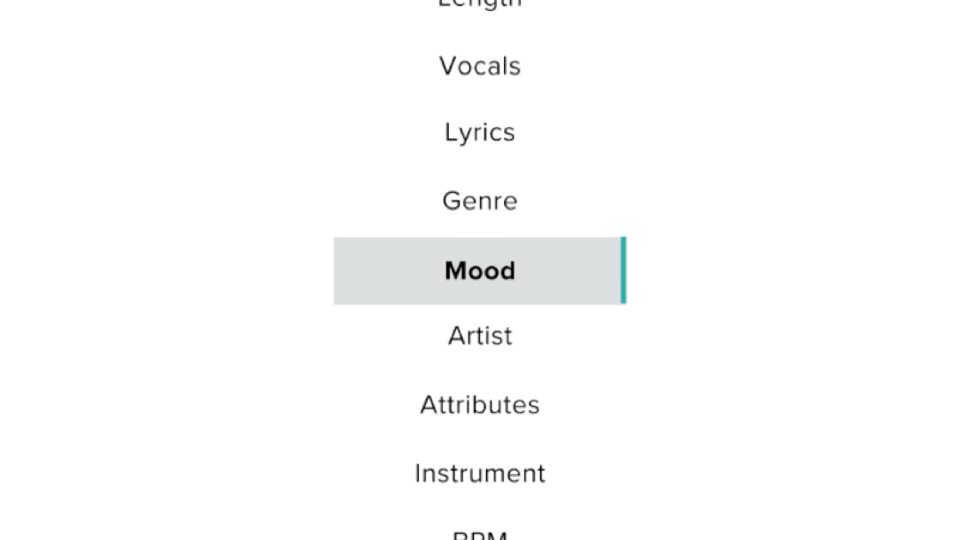 Then, once you've begun the process of finding songs that make sense for the emotion, you can start to build out a whole style for your project—in this case, for each episode. By starting with emotion instead of genre, he could develop a more diverse range of music than if he'd selected based only on his taste:
"Then, you can start to develop a diverse palate for music, because you have everything from dubstep, electronic, to opera, you know what I mean? It's all hitting the same emotion, and those things can exist within the same universe of an episode, and feel right," he told us."In an intangible way, two songs can work together to portray the emotion of this moment."
Think Like a Sound Designer
Making his selections is just the start of the creative process. As an editor, you can use our artists' incredible music to create a new identity for your project. It's just a matter of thinking about music different than just drag and drop:
"Once you find the song, it's about pushing the limits of the song. Starts and stops. Reorganizing, cutting, mixing two songs together in the same key, things like that. Take a much more sound design approach to music editing," Lucas says.
For example, in Sha'Carri Richardson's episode, Lucas found the perfect song to add some grittiness to a moment, but knew it needed a bit more:
"There's a rock song that's a bit more gritty and intense. For Sha'Carri's episode, there's this really driving rock backbone that's building, building, building, and then it just cuts to silence," Lucas told us. "So, and this is the only part of the song that made it into the episode, I used a choral swell from one of Tony Anderson's songs to bridge it, and then we smashed back into the rock. So, I'm looking for songs to be songs, but also looking for songs to be pieces sometimes. I need a string hit here, so I go in and find a string hit. Even if that's only two seconds of a song that I use, I'm creating a bed that feels more custom."
---
A big thanks to Lucas for walking us through his music process. Watch his work in Quibi's Prodigy and you'll see how being intentional in your process can transform the quality of your films and your storytelling.
Here at Musicbed, we're passionate about bringing your vision to life. Whether it's a TV series, 30-second spot, branded content, feature-length film, or something in between, our team can help you find the perfect song for your project.
We've worked with hundreds of the best teams across the world, including Google, Nike, Apple, and more, and we'd love to work with you. To start listening to music, see more of our work, or reach out to our team to get started, head to musicbed.com.
Listen to Park Stories Musicbed playlist (including songs from Prodigy) below.