Gaby Moreno is a Grammy-winning, Emmy-nominated songwriter known for her genre-bending compositions that combine jazz, pop, R&B, and Latin folk. You've probably heard her most popular tune: the theme song to NBC's Parks and Recreation. Her latest album, Ilusión, is an eclectic romp of a record engineered the old-fashioned way (i.e., all tape, no computers) by producer Gabe Roth. "I wanted it to be very, very human," Gaby told us. "I wanted us to capture performances and not think so much about sounding perfect. Because to me, that's what music is about ⎯ connecting with people and wearing your heart on your sleeve."
Wearing her heart on her sleeve must come naturally to Gaby. She's been performing since she was seven years old, and she hasn't gotten tired of it yet. "For me, there's just no comparison to being in front of an audience. That energy you get from them. The energy you give back. There's nothing like it."
This energy came through loud and clear in our conversation with Gaby. She spoke to us from her home in Los Angeles.
Musicbed: What was your first big show?
When I was 10 years old in Guatemala, I opened a concert for Ricky Martin. I did three songs; and after I finished, I went backstage and saw Ricky standing there. I went up to him and said, "Hey, Ricky. Don't worry. The crowd is awesome. You're going to have a good time." And he was like, "Okay, thanks!"
You were one confident 10 year old.
I've always felt really comfortable on stage. I never got stage fright. I was so excited to get up there and sing to people.
Let's skip ahead a bit. After you won your Grammy in 2013, what did you do with it for the rest of the night? Did you put it in your car? Or keep it under your seat?
Well, you don't actually get it that night. What you see the artist getting is a fake one. You have to give that one back. Then later, they send one to your home. It takes three to six months. I didn't receive mine until five months after the Latin Grammys.
It just shows up in some FedEx box?
Yep! It comes in a FedEx box. You're just like, "Oh! There it is!" I took mine to Guatemala and gave it to my mom. She keeps it in her living room.
LISTEN TO GABY MORENO
How did the Parks and Rec theme song happen?
I got an email from my manager asking me if I could write a little theme song for a new series on NBC. They were rushing because the series was premiering in like a month. I'd never written anything for TV. And usually when I get those kinds of emails, I'm like, "No. Forget it. I'm not even going to try." But this time I thought, You know what? Maybe I'll give it a shot. So I grabbed my guitar and started strumming this little ditty. It sounded like a folk song, and I thought, Oh man, this is not going to be good. I knew what they wanted, and an acoustic guitar ditty wasn't going to cut it.
I called my friend Vincent Jones, who is an incredible piano player. I told him I had this little song and I'd love it if he could help me finish it. I went over to his place, we made this song with an almost orchestral arrangement, and then we sent it in. It was just like, "Okay, whatever. Here goes nothing." Two weeks went by and we got a call saying we'd made it into the final 80 songs. Then another week went by and — I remember this so well — I was at Amoeba, this awesome little record store here in L.A. I was there watching a show, and I got a call saying, "You got it. We chose your theme." I was screaming, like, "What?!!" It was an amazing moment.
And the show ended up being so good!
I know! I'm such a huge fan. I obviously started watching it just to hear my theme, but then I couldn't stop.
When you write the theme song for a show, are you in the club then? Do you get invited to parties?
I visited the set a couple times. Amy Poehler was really sweet. She knew who I was. And then they invited me to play a set at their wrap party for Season 2. So I got to play a few of my songs for them. It was very nice of them to invite me.
Is it strange that your most recognizable song is only 30 seconds long?
It definitely is. But I'm very proud of it. It was even nominated for an Emmy. That was unreal to me. I'm incredibly proud of the song. It's definitely one of my biggest achievements.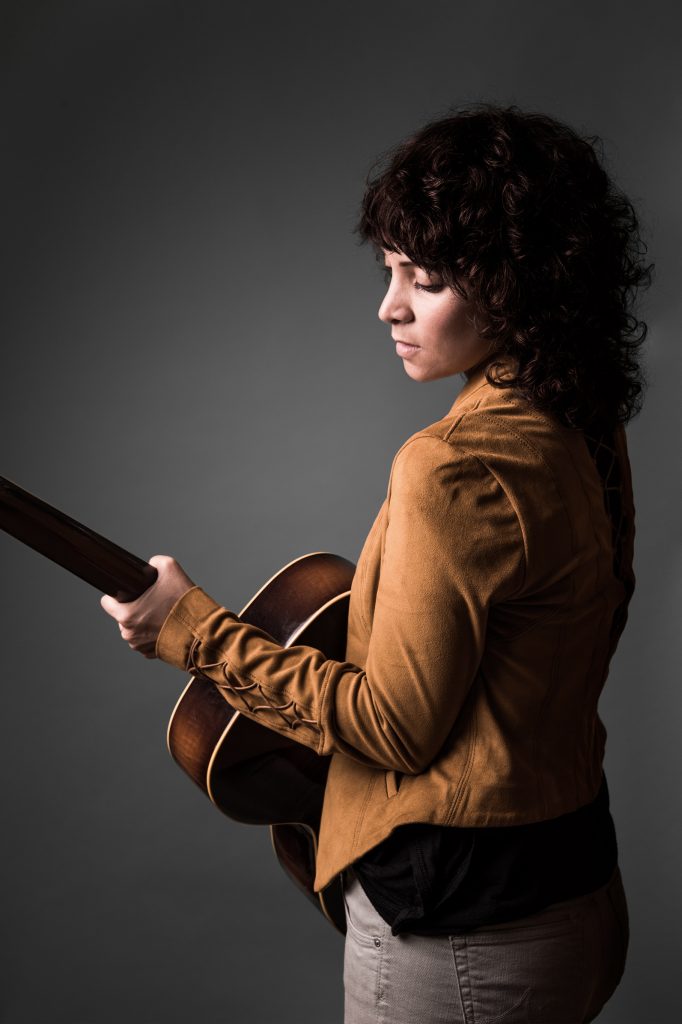 How does speaking two languages affect the way you approach music?
I was actually singing in English before I started singing in Spanish. When I came to L.A., I was signed to a publishing company that would always send me on writing assignments in English. It wasn't until six years later that I came across a songwriting contest — the John Lennon Songwriting Contest — and someone told me I should submit one of my songs. I was like, "Okay, maybe." But then I saw there was a Latin category, and for some reason that clicked with me. I thought maybe I'd have a better chance if I submitted a song in that category. And, coincidentally, I'd just written my very first song in Spanish. So I sent it in, and it ended up winning the entire thing. It was the first time the Latin category won. So that's when I decided this could be something really cool, that writing and singing in both languages could be something unique about me and help me reach a whole new audience. I think it really reflects who I am. It's so natural for me.
How do you decide whether a song is going to be in English or Spanish?
Basically, I sit with my guitar and start humming gibberish in some sort of melody. Sometimes it comes out in Spanish; sometimes it comes out in English. That's all. There's no reason behind it.
Have you heard of the band Phoenix?
No.
It's a French rock band, but they play all their songs in English because they believe rock music is meant to be played in English. Is there a type of music you think is meant to be played in Spanish?
No, I don't think so. I try not to think in those terms. I don't like to discriminate against genres by thinking something like the blues should be sung only in English, and bossa nova should be sung only in Portuguese. What makes music so interesting is that it can be cross-cultural, cross-genre. A lot of people might think Latin music is all about pop ballads. But there's so much more to it. You can't pinpoint Latin music like that. There's rock in Español, which is huge. There's cumbia, salsa, merengue. But I wouldn't have a problem if someone in China decided to sing a salsa song in Chinese. I'd love that. It would be so colorful.
What do you think about Bob Dylan winning the Nobel Prize?
I think it's amazing. The man is a poet. It's a great thing that they're giving the award to a songwriter. I mean, literature is about, how do you say it? In Spanish we say letras, which translates to "lyrics" — but not song lyrics, just like…words. Dylan is a wordsmith. And who better to give this award to than a wordsmith like Bob Dylan. He's not just a songwriter. What he's done goes way beyond that.
What's lyric writing like for you?
It's tricky. It's so important to me that the lyrics are honest and come from a real place. It takes a while to find those right words, which is why I'm not putting out an album every two years. I take my time. I'm not one of these artists who writes 30 songs and then chooses 10 to be an album. I can't do that. I write 10 songs and go, "Okay, I have my record." I try to be very receptive in my everyday life. When I read, I take time to really understand what I'm reading. I try to learn new words. Sometimes learning one new word will inspire a whole new set of lyrics.
Do you remember the newest word you learned?
This one won't seem new to you, but remember that English is my second language. The word is treacherous. I love that word. I put it into a song. I try to have fun with things like that, be as creative as possible. It goes back to being honest. I write for myself because I feel like if it feels good to me, then hopefully it's coming from a good place, and then hopefully that translates to the outside world. I have a feeling people are very receptive to that. People know when something is real and when something is bullshit, you know?