Our latest update isn't just some minor facelift. We've completely rebuilt our platform with brand-new tools, features, workflow, and design to make it easier than ever to find the perfect song.
Accessibility and innovation go hand in hand, and this idea is the heart behind our new platform. We're not only passionate (and a little obsessed) about making great music accessible to filmmakers and creatives, but we're also passionate about making your process more streamlined than ever. Because, ultimately, we get it. You don't always have time to spend a rainy afternoon listening to hundreds of songs to hunt down the soundtrack you need. Sometimes you need the perfect song right now. Maybe yesterday. In that spirit, we've re-thought how our platform functions to complement your own process. Because, as filmmakers know more than most, the better your tools are the more quickly you can forget about them and get back to creating something great.
We're not stopping here, either. We'll be continually rolling out new features and updates, and we'll update this article with the latest information when we do. In the meantime, check out all of the shiny new features you get to play with on the new Musicbed.
Integrated Browse + Search
Your music search doesn't exist in a vacuum. It's an organic, ever-changing process that ebbs and flows with what you need. Meet our new integrated Browse + Search. We've combined the two tools for an entirely new, user-friendly experience. The filters you know and love are still there — plus a ton of new ones, but we'll get to that next — and now you can pair them with anything you type into the search bar above, along with 'Include' and 'Exclude'. Here's an example:
You don't know exactly what you're looking for, but you definitely want Piano. So you type 'Piano' into the search bar and click the 'Include' button to show all songs with Piano. Your creative director explicitly said, "no Male vocals," so you type in 'Male' and hit the 'Exclude' button. Now you have all Piano songs without Male vocals. Want to narrow down the genre? Click the 'Rock' filter on the left or just type it into the search bar. Now you're looking at all songs with Piano, without Male vocals, in the Rock genre.
This is just one of the infinite ways you can use our new Browse + Search to hunt down the perfect song. Using 'Include' or 'Exclude' you can dynamically search through our roster of 700+ world-class artists in an instant — removing or adding exactly what you want.
Brand-New Filters + Tools
It's not always easy to describe what you're looking for. You know it when you hear it. That's why we've added dozens of new, Advanced filters and tools to help you translate that sound in your head into a soundtrack for your next project. Here are a few of them:
Is the song fast, slow, or somewhere in between? Try our BPM slider.
Is it in B minor or E major? We've categorized our entire roster by key.
Does it have a build or does it stay steady? Click the filter.
Maybe you're looking for a song about bridges? Type 'bridges' into the search bar and songs with that specific lyric will populate.
Want a 10-minute song or a 1-minute song? Use our length slider.
These are just a few of the ways you can use our new filters and tools. They're designed to give you that 'aha' moment, that great feeling when you know you've found the perfect song. Dig into them and test them out for yourself — don't forget you can pair any of them with our 'Include' and 'Exclude' options as well.
Streamlined Checkout Process
We know even just the words 'music licensing' can induce some panic, so we took out a bunch of unnecessary steps and narrowed everything down to a few questions related to your project — all in one place. Select a few options, click 'Add to Cart' or 'Receive Quote', and get back to the editing bay.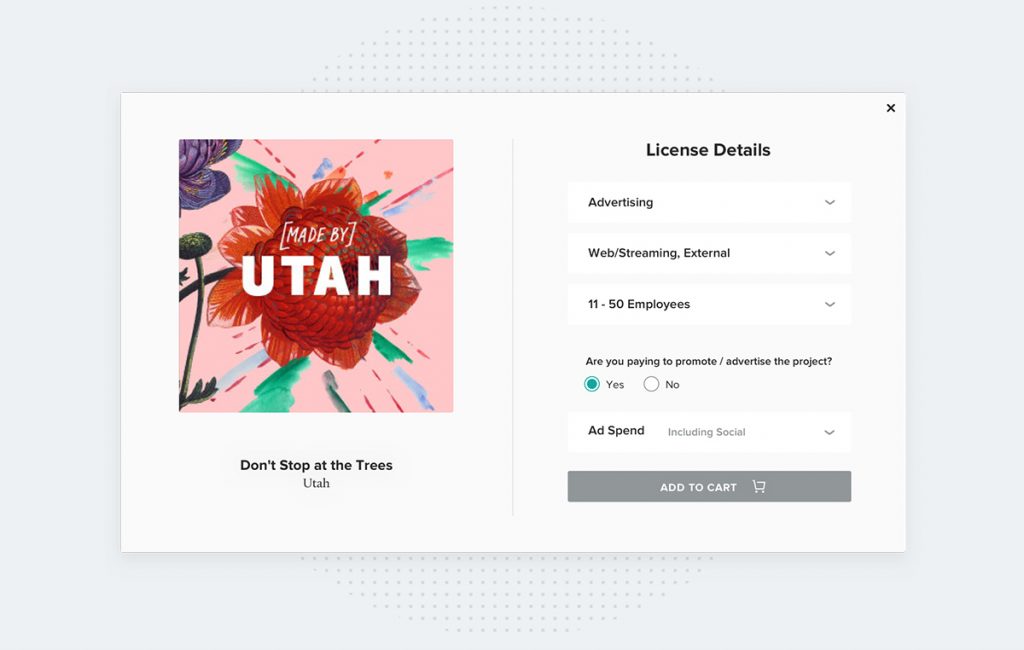 Expanded Player
Our new expanded player is a helpful new tool designed to help you keep track of your work and discover new music. When you're listening to a song, hover over its album art on the lower-left hand of the screen and click the arrow that appears. Voila! In the expanded player you'll see your listening history so you can track down that incredible song you heard the other day. You'll also find related songs to explore the vibe even further. You can also add songs to your Projects directly from the expanded player. To pin a Project to your player, just click the pin icon on the Project you'd like to add — you can find them on the 'My Projects' page, just click the link the navigation bar on the left side of your screen.
---
These new features are just a few of the highlights from complete rebuild and redesign of the platform. Dig into it and discover how it can make your music-licensing process more streamlined than ever. As we said before, stay tuned as we add even more innovative features in the coming months. Have any questions about all of this information? Feel free to reach out to our friendly customer service representatives!