During the search for a new HQ earlier this year, one of the requirements was a space for live music — not just any space, the right space. When we saw the warehouse adjacent to the office, roll-up windows, concrete floors and all, we knew it was right. It was like music wanted to be played there. We had found the venue we were searching for — the setting of what would become Musicbed Sessions.
The vision behind Musicbed Sessions is simple, but it goes back to the core of what we believe about music: You know it when you hear it. That's what drives these Sessions. Getting people together to hear it. Something powerful happens at a live show. You see how music — great music — moves people. How it fills up a room. That's why it's such an important emotional element in films — it contains powerful, raw emotion all on its own. And all the more so when it's being played live just a few feet from where you're standing.
As we were building out the space, we started thinking about ways to take these Sessions even further. Make them more than just a flash-in-the-pan experience; something that could last — something we could share. So with the help of some amazing sponsors (more about them below), we added a second element to Musicbed Sessions: A cinematic live music series that lets people experience a Session even if they can't make it to a show. And, even better, it gives them a chance to meet some of our favorite people in the world: our artists.
After doing a handful of these events, we've realized that Musicbed Sessions are a concentrated dose of everything Musicbed is all about: music, film, community — a monthly reminder of why we love what we do.
A lot of you have reached out to ask us how we are pulling this off, and what gear we are using. We wanted to make sure we gave you all of the details from all of our incredible friends that have made this thing happen for us.
RØDE
All of our Musicbed Sessions are recorded exclusively with RØDE microphones. When we're capturing a moment, the audio is every bit as important as the film. We want Sessions to sound just as beautiful as they look. RØDE mics are some of the best in the business — just listen to Musicbed Sessions as proof. If you want to hear RØDE in action, try out their NTR Ribbon mic, it's unbelievable!
We Use:
RØDE NTR Ribbon • RØDE NT55 • RØDE NT5 • RØDE S1 • RØDE NT6
PRESONUS
When building the Musicbed Studio, one of the first things that came to mind was the audio — we wanted it to be fully integrated. PreSonus has built something revolutionary. We can control our entire operation from an iPad — everything from room tuning and control, to sound and monitors. Our team uses Capture to multitrack each Musicbed Session, the AI speaker, and mixer lineup; and our artists can even use iPhone apps to control their own monitors. It's a start-to-finish operation with the Musicbed Studio, and PreSonus is an essential part.
We Use:
StudioLive CS18AI • StudioLive RM32 • StudioLive 315AI Mains and 18sAI Subs
Software:
Capture for Live Recording • SL Room Control for Room Tuning • UC Surface for iPad Mixing
BLACKMAGIC
We like to keep an eye on everything while filming Musicbed Sessions, and Blackmagic helps us do just that. Their equipment helps us monitor and record our multi-cam video feeds. Blackmagic has all of the gear to take us from switching to monitoring to recording.
We Use:
ATEM 2 M/E Production 4K • ATEM 1 M/E Broadcast Panel • HyperDeck Studio • SmartView HD
GUITAR CENTER
All of the work that went into the Musicbed Studio would be wasted if we didn't have great gear to bring the performances to life. That's where Guitar Center comes in. With artists flying in from around the country, we want to be sure they are working with the best instruments and setups in our studio. Guitar Center gave us an incredible lineup of backline and lighting gear to maximize our production quality.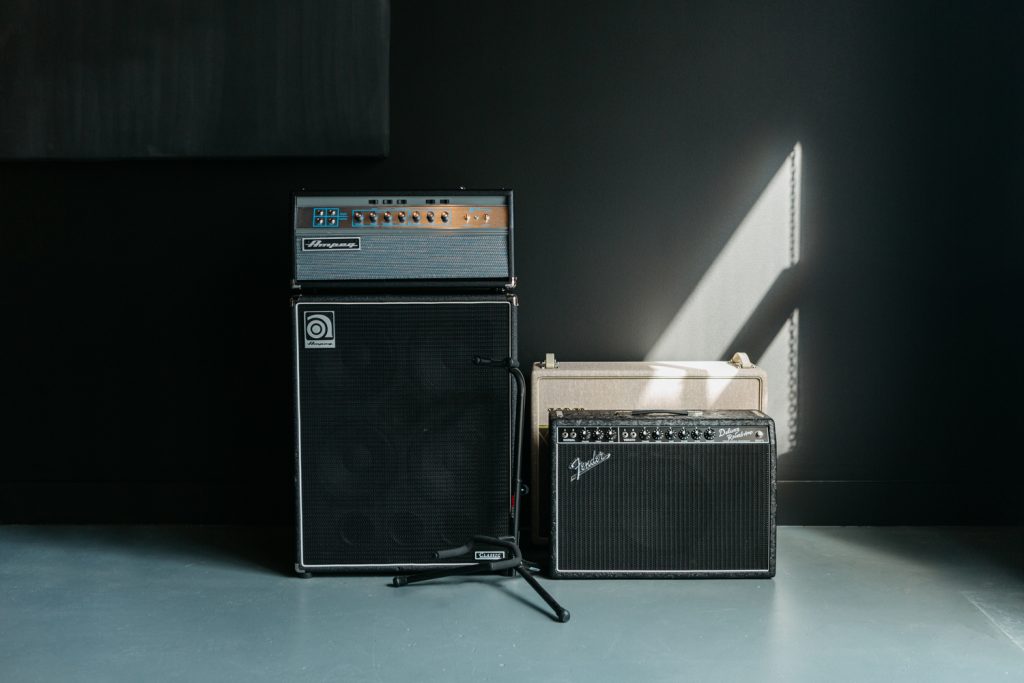 We Use:
Nord Piano • Ampeg SVT-VR • Fender Deluxe Reverb • VOX AC30 Hand-Wired • DW Classic Drum Set • 8 LED Moving Lights
We'd love for you to come by for a Session. They're always a good time. And if you can't make it, then check out the films!